About Us :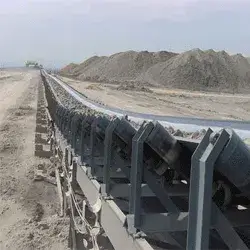 A conveyor belt was incorporated that happened in 1999 in Ahmedabad (India) and with passage of almost fiften years since its beginning, step by step started to be one in every of the leading manufacturer and supplier of commercial regular material load out instruments like Elevator, Rubber products and Rubber Sheets in all over globe. Immense supplier that helps in encounter production of various forms of Conveyor Belts.
The intensive knowledgeable qualified teams maintain consistency of top quality products by strictly checks the product on the premise of assorted physical and chemical aspects therefore they are reach in the top level of high basic safety and quality standard. Each of our one and half decade experiance helps our engineers and technicians to care for quality and technically well-tried professional product at competitive costs.We provide range of belts that are a unit utilized in totally different reasonably industries for various work. We supply top quality industrial conveyor belts victimization high grade material, therefore it has high tendency of carrying serious load.
Portortornec condimenterdum eget consectetuer condis consequam pretium pellus sed mauris enim. Puruselit mauris nulla hendimentesque elit semper nam a sapien urna sempus.
CONVEYOR ACCESSORIES:
With conveyor belt we also supply its elements such as Conveyor Rollers, Guide Rollers, Impact Roller, Conveyor Pulley, M.S. Drum, Return Roller, Idlers, Self Alignment Rollers, Skirt Rubber, Impact Rings etc.
VULCANIZING OF CONVEYOR BELTS:
Our company uses latest technology and trendy equipments for vulcanizing belts. Our team of experienced engineers and technicians helps clients for vulcanization of Belts, Rubber Lagging of Pulley and Rollers, Repairing of Conveyor Belts at there site.
OUR MOTTO :
Our motto is to supply Conveying & Material Handling System and Anti Vibrating Mounting Pads consistent with the client's specification at economical worth.